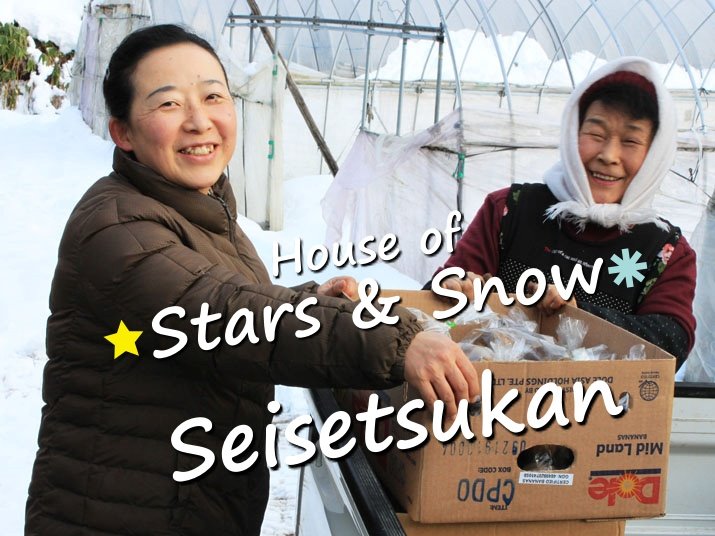 Farmstay Seisetsukan (Seisetsukan [星雪館] literally meaning 'a house of stars and snow') lies between a beautiful mountain ranges in Akita. We visited there on a heavily snowing day. The chimney was working in full operation.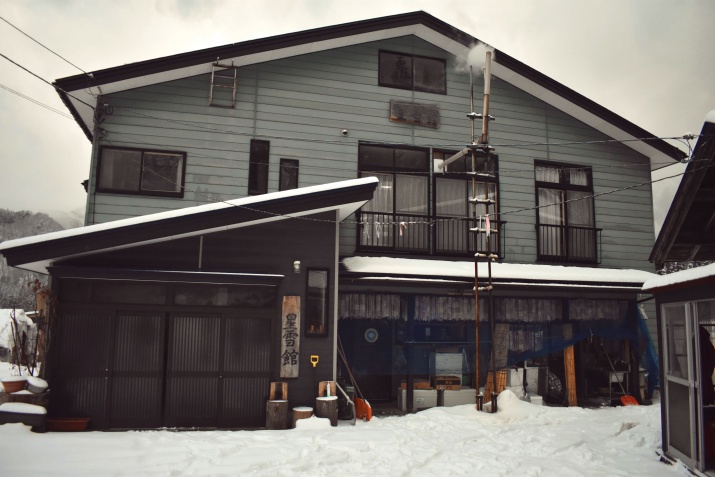 Next to Seisetsukan, were greenhouses where spinaches are produced all-year. There were few houses around the farm stay, so the inhabited, unspoiled landscape will cover your eyes.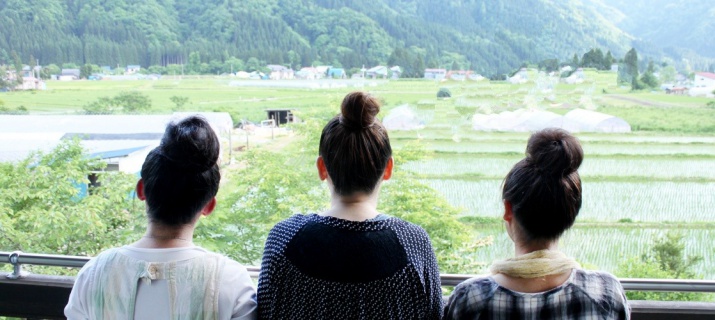 Summer view from the balcony of Seisetsukan
The owner of this house is Ms. Fujimi san. She has the most charming smile and unique laughter. She started helping her parent's farming after she experienced a study-abroad in China. She was shocked at the fact that she did not know anything about her home village.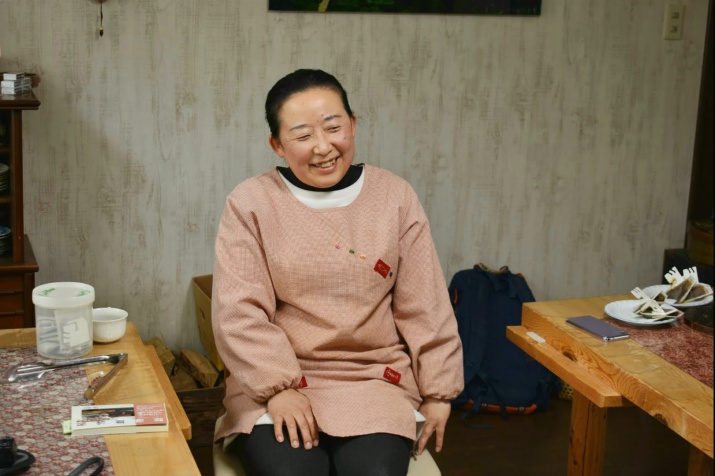 After such experience, she opened the farm stay "Seisetsukan" with her mother. Many foreign visitors also travel to Seisetsukan, and Fujimi-san's language ability helps her engage in communicating with foreign guests.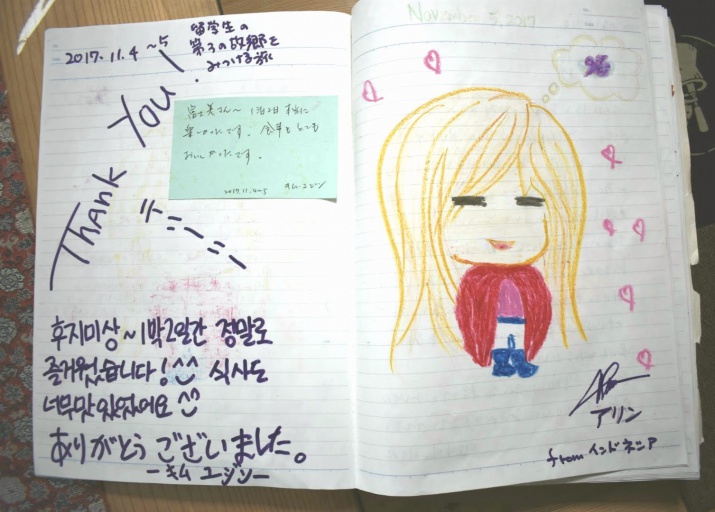 Thank you note with a comment from different languages.
Usually, a farm stay would require you to stay in the same building with your host, but in Seisetsukan you can freely use the entire building by yourself. The accommodation has a living room with a warm fireplace, a tatami room, and a kitchen for free use.
Tatami room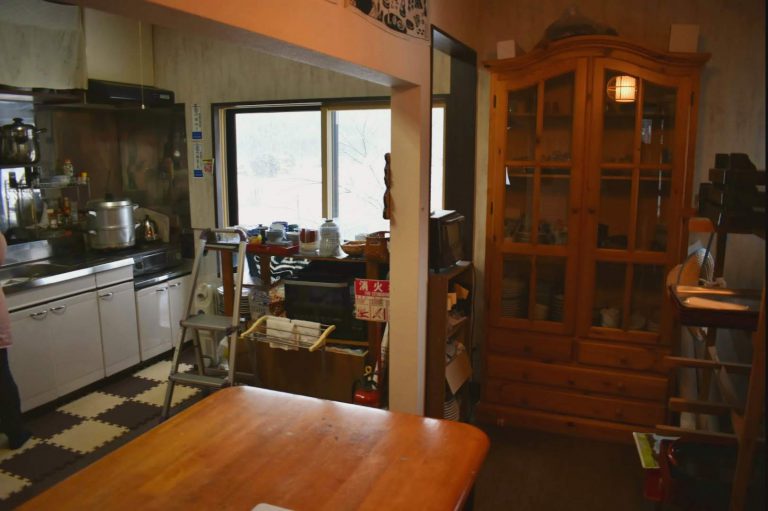 Kitchen free of use
During our interview, Fujimi san shared her handmade traditional Akita rice cake "Oyaki(おやき)."  Visitors can wear Japanese orthodox indoor coats to stay warm. Fireplace, tatami room, traditional Akita sweets, and Japanese indoor coat; You can enjoy the best of every Japanese culture and lifestyle in this farm stay!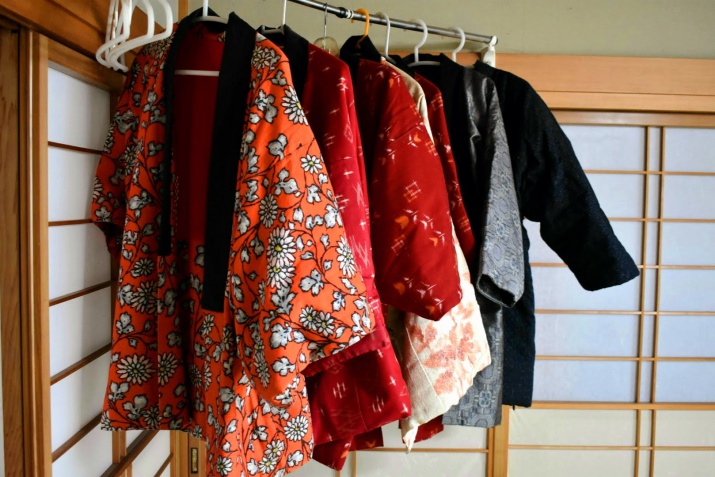 Japanese indoor coat
Fujimi san said that she would want a career woman or family group from urban areas to visit Seisetsukan. She hopes that her farm stay and the nature of Akita will be a retreating time for the visitors to relax.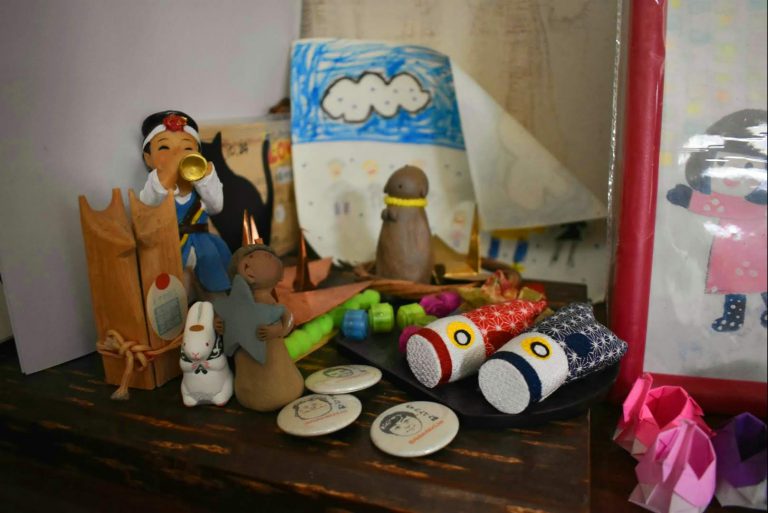 Different souvenir collections from all around the globe
Seisetsukan has no TV and is far away from cities. Seems there's nothing to do, but Fujimi san explains that that is the beauty of rural farm stays. There's no interference from the news and media, and you do not need to care about how much sound your children make.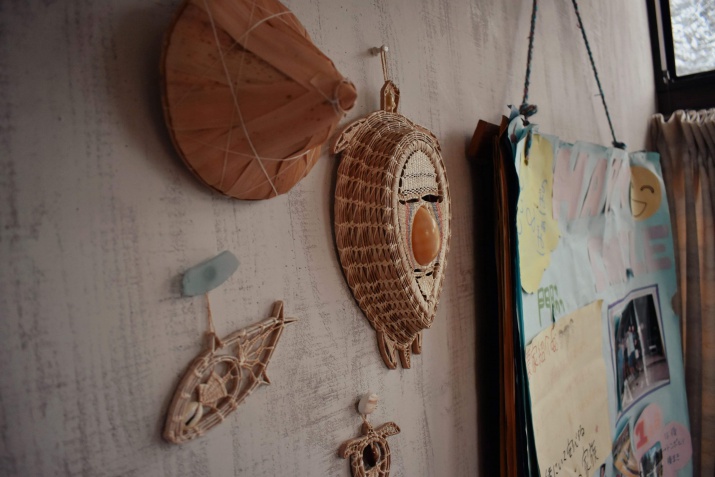 Unique wall hangings
Since Fujimi san and her mother is an expert in making Akita's traditional rice cakes; mochi (もち), Seisetsukan also offers a rice cake making experience.
Dried colored mochi: it is often eaten at this region
Japan has an abundant variety of mochi that even Wikipedia has at least 100 different pages of mochi. Just as we were served with Oyaki, you can experience making one of the many mochi types that Fujimi san can make. Fujimi san's love of the mochi cannot stop her holding the "Mochi buffet" twice every year!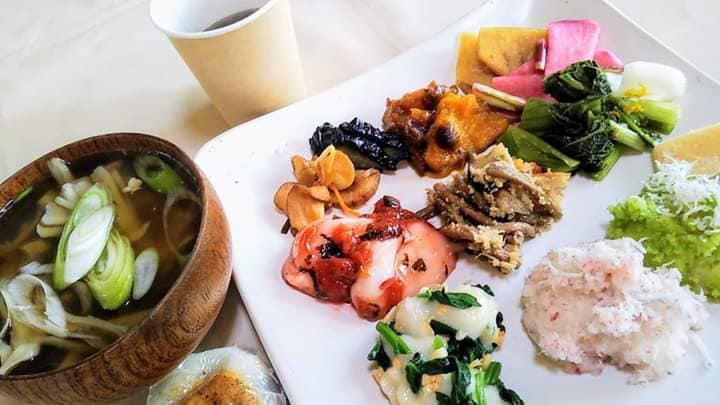 Mochi buffet!
Please enjoy the true self of the rural lifestyle of Japan!
Collumn written by Takumi Inakawa and Seira Nagasaki (Akita International University)
*If you have any accommodation reservation or other inquiries, please click this link.